The following is a greeting given in one of the 20 indigenous languages recognized by the State of Alaska.
Language: Deg Xinag
Translation: "Hello, how are you?"
×
State Song
State Song
If you have a sound card, and an audio player downloaded, you can listen to an audio version of the official Alaska State song while checking out the sheet music!
Click on this speaker icon to activate the audio file.

The words to the song Alaska's Flag were written by Marie Drake, a long-time employee of the Alaska Department of Education, and set to music composed by Elinor Dusenbury, whose husband was commander of Chilkoot Barracks at Haines from 1933 to 1936. The Territorial Legislature adopted Alaska's Flag as Alaska's official song in 1955.

Eight stars of gold on a field of blue,
Alaska's flag, may it mean to you,
The blue of the sea, the evening sky,
The mountain lakes and the flowers nearby,
The gold of the early sourdough's dreams,
The precious gold of the hills and streams,
The brilliant stars in the northern sky,
The "Bear," the "Dipper," and shining high,
The great North Star with its steady light,
O'er land and sea a beacon bright,
Alaska's flag to Alaskans dear,
The simple flag of a last frontier.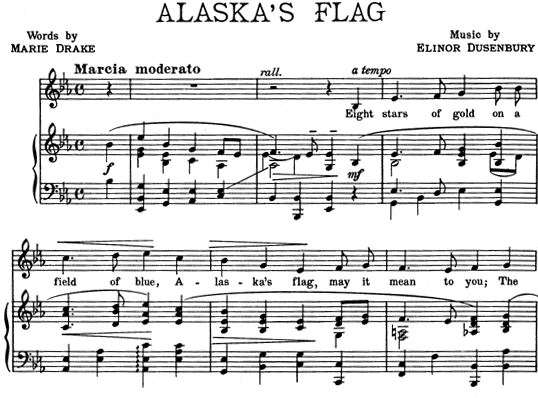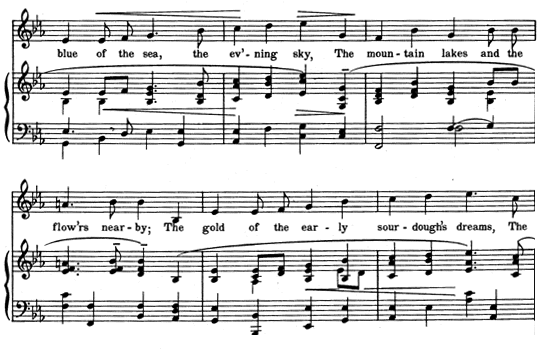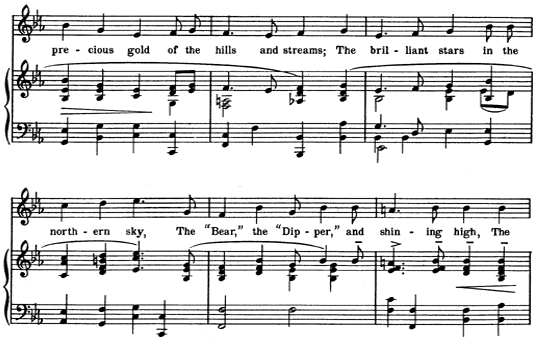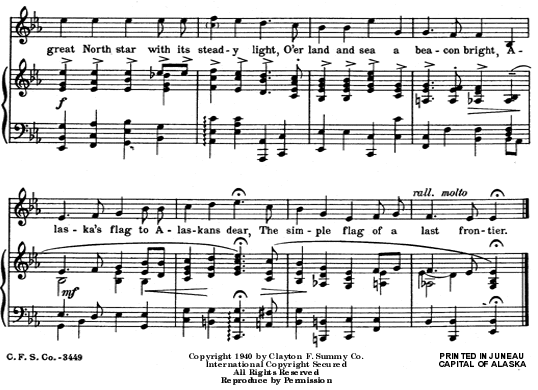 Alaska Facts
State Nick Name: "The Last Frontier" - the name Alaska is derived from the Aleut word "Aleyska," meaning "great land."
State Motto: "North to the Future"
State Capital: Juneau, located in the Southeast region of Alaska, has a population of 33,277 (2015 Estimate of Population, Alaska Department of Labor and Workforce Development)
Alaska Map:
Alaska Flag:
NOTE: The State of Alaska is not responsible for the content/information on any site outside of a State of Alaska department.